Track Day 19 - Laguna Seca - Hot brakes, technique improvements, and a new PB
Submitted by
shredjesse
on Wed, 08/30/2023 - 09:52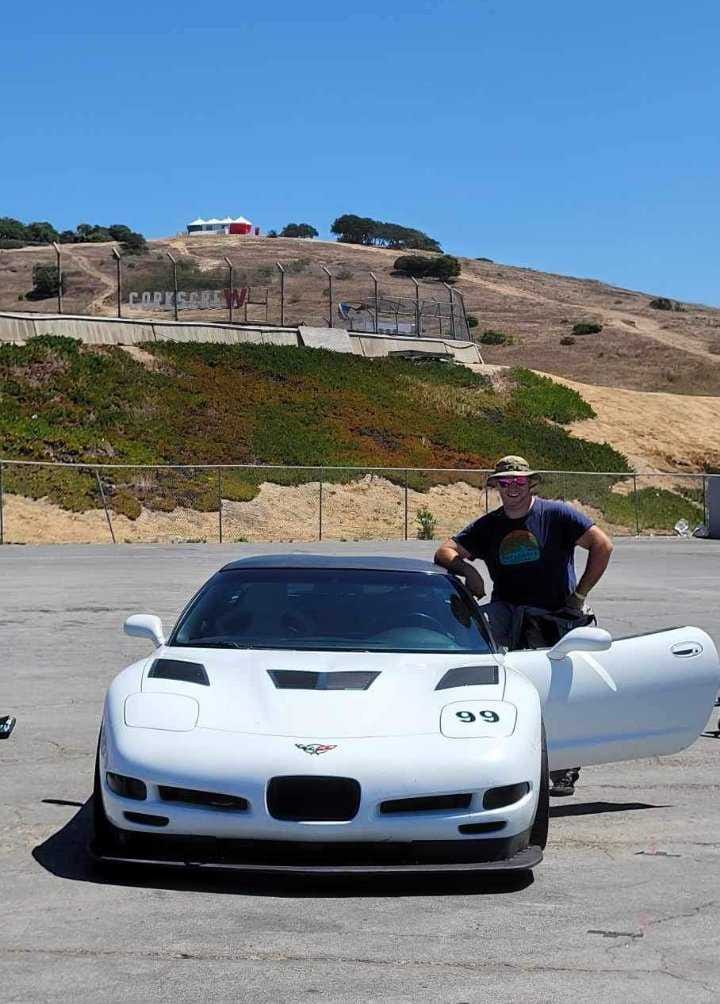 So Laguna Seca is a bucket list track for most folks out there. I know for me it was a big deal when I got out there for my second track day ever. Since I was last there though, I've progressed a ton and also refined the car a lot and I also have 16 more track days of seat time. I've figured out a ton about driving, I've got bucket seats and a harness setup along with coilovers, mild aero, and all sorts of brake and cooling upgrades to go with it all. Getting back to tracks I first did has been a blast, and getting back to Laguna Seca was looking to be no exception.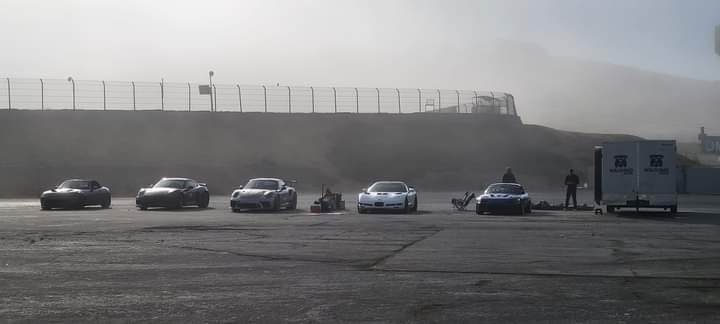 Pictured above is where our group of friends all pitted. We had my girlfriend Boh out there in her NC Miata, a Porsche GT4 and a GT3RS, along with out friends K Swapped GT5 racing NA Miata. It was a bit foggy/socked in for the AM, but quickly cleared up to a perfect day of low 80 degree weather with a nice light breeze all day long. The track did heat up throughout the day and I definitely started sliding a bit more, but eh that's fun in my books!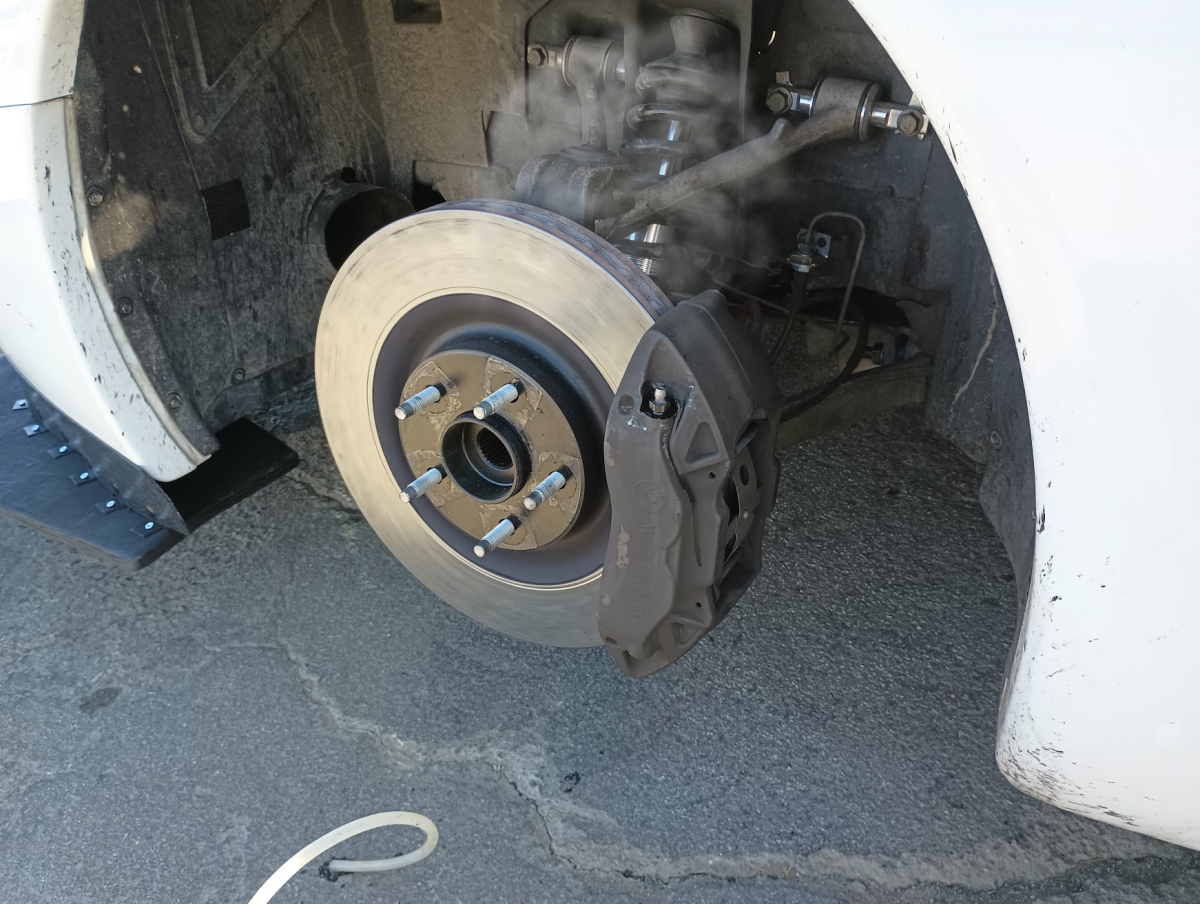 During my first session out, I notably overheated the brakes. I've been having brake fade issues ever since I went with the Carbotech XP-10 brakes that were recommended to me. I never had such issues on my Powerstop trackday brake pads, granted these XP-10's aren't eating up rotors while the Powerstop stuff demolished rotors and coated everything in caustic brake dust.
After the first session I bled all 4 corners of my brakes, found just a few little air bubbles hiding out in the system, and put a ton of fresh brake fluid through the entire setup. I then made a minor adjustment to my technique as well on subsequent sessions. With heel toe braking, I "sidefoot" it as I call it. Left side/ball of foot on the brake, outside of foot articulates to push the gas pedal. I was holding this foot position my entire way through braking. Due to the pedal fading throughout a session, I would really start to notice the increase in pedal travel, especially as contorting my foot to cover both pedals during my entire braking zone meant I had to give up some braking as pedal travel increased. This was never an issue with the powerstop trackday brake pads, but I really don't need to do this. As soon as I've hit the target gear I'm going to drive out of the turn with, I'm definitely not going to blip the throttle again or anything. Consequently I can move my foot back to covering just the brake as soon as I am done with the heel toe shifting. So now the plan is get some initial braking and gear shifting done early to mid entry and then get my foot all the way back on to just the brake pedal.
I will also likely look into the Carbotech XP12 brake pads next up front however. I've been told they're bearable still for driving to and from the track, which is a nescesseity with this car as I do currently drive it to and from the track. Maybe someday I'll get a dedicated car trailer though and I can stop burning up tire miles and engine hours getting to and from the track. Being able to street test my car though is still pretty darn useful!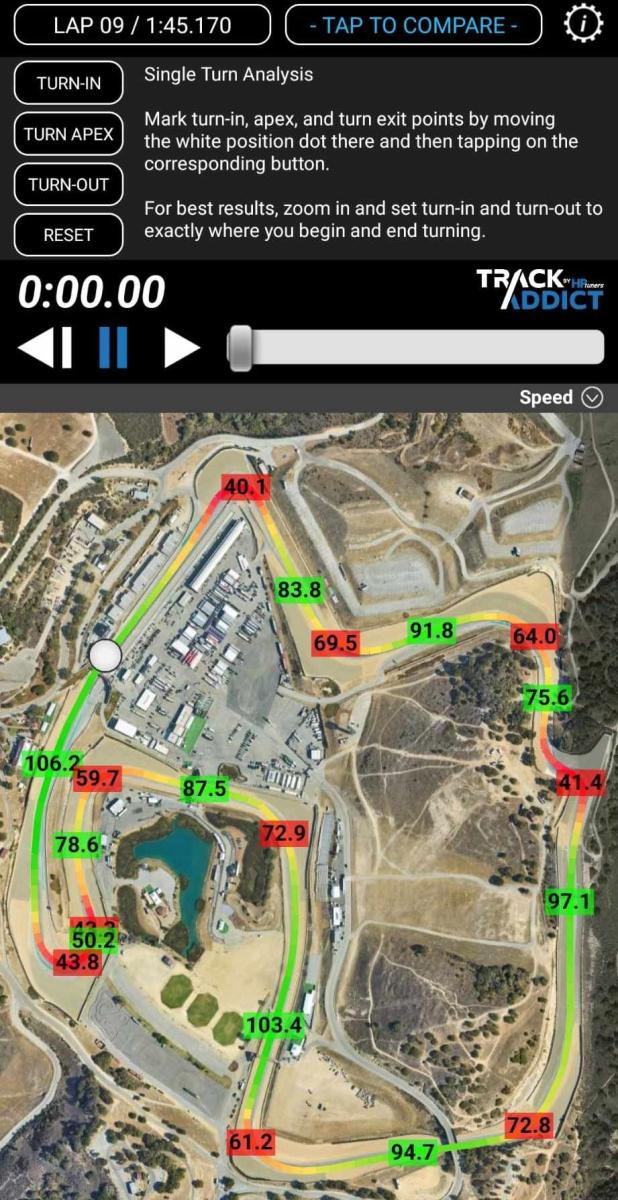 Lap time wise, I was able to put down a 1:45.17 on Track Addicts (with 10hz gps bluetooth) and a 1:45.06 according to timing on the GoPro video. I also clicked off three back to back lower 1:45 laps all within a tenth of a second of each other so I feel pretty good about that. Theoretical best lap time does have me at 1:44.5 though so I've got some improvements to be made. That said, last time I was here I only put down a best of 1:55. Part of me is happy that I blew that time out of the water, part of me is less than impressed that all I could pick up with all these countless modifications and seat time was 10 seconds. Still though, it's only my second time at the track and I haven't been here in a year. More time at the track would surely yield further improved lap times.
Overall takeaways from the track day:
I need Continue to improve heel toe braking technique
Look into a higher temperature brake fluid before considering different pads.
Improving brake cooling would help me brake harder and later for more sessions as well, but I'm not sure how to pull this off while running my huge 315's in there.
Upgrading power is a bit tempting... but I'll survive as is for a while longer. Maybe at some point I'll go with a mildly more aggressive cam, long tube headers, X-pipe and a tune. Pick up 30-40 horsepower. In the back of my head I'm thinking if thise engine ever eats it but is rebuildable have it setup as a 383 stroker for additional power and torque all over!