C5 Corvette Brake Upgrade Options
Submitted by
shredjesse
on Fri, 07/29/2022 - 10:23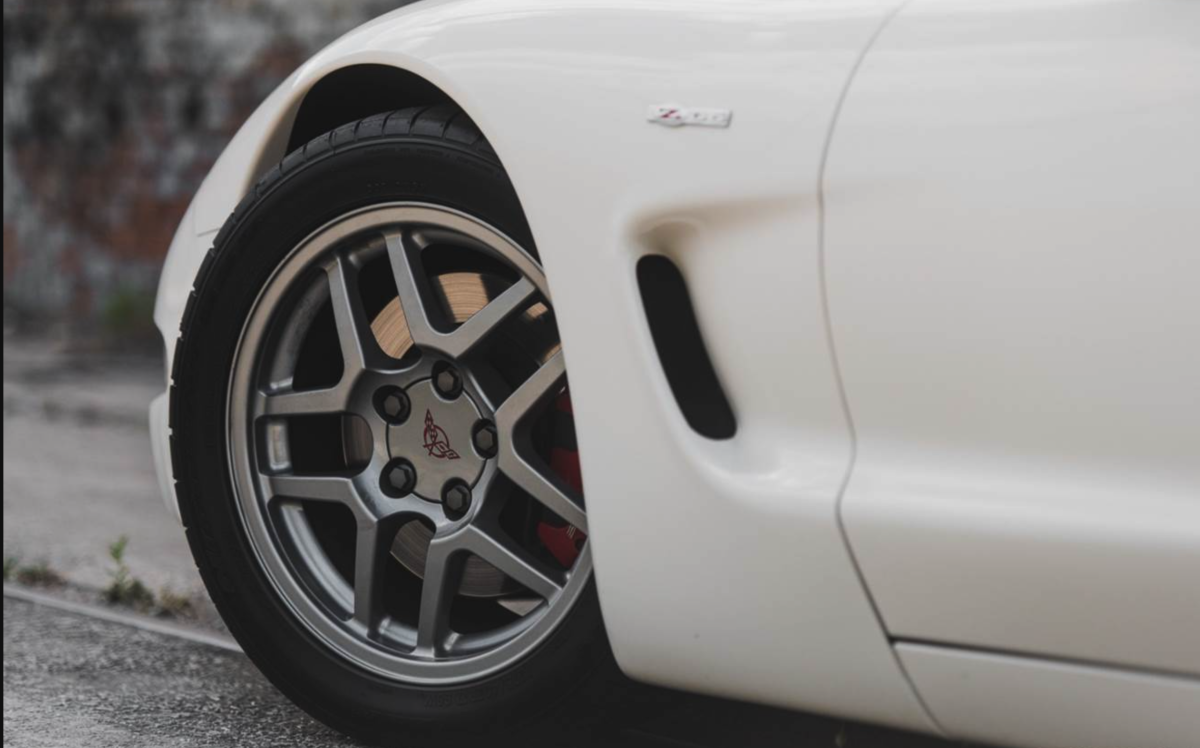 NOTE: This is a work in progress. Some measurements may not be entirely correct. I'm still reseraching this. I'll update it all when I've completed researching. In the mean time, please do contact me if you've got any 
So if you've got a C3 Corvette, chances are pretty good it's pushing over 20 years old, if not older. While these cars were no slouch for their day, they definitely have had improvements over the years and even between models. The base model C5 has 12.6" front brake rotors and 11.6" rears. By contrast, the C5 Z06 uses 13.4" front rotors, 12" rear rotors.
I personally had braking issues when I hit the track, specificaly that issue being overheating. While I was able to brake to well within the maximum capabilities of my brake system, one of the times I exited the track the heat soak into the brake system resulted in my fluid boiling and I lost all brake pedal. That's unnerving to think of happening to you on the actual track!
The most common solution to this is larger rotors. Larger rotors will dissipate heat greater and due to the additional leverge clamping further out on larger diameter rotors, you will not have to use as much force to get the same level of braking. This is also the case in other sports using disc brakes such as mountain biking.
There are a lot of options out there to upgrade with. Some include mixing and matching parts from different generations of Corvette, and some even are wise enough to use parts from a different GM vehicle with the exact same brake calipers to avoid paying the "Corvette tax".
Below are my findings, sorted from mild to wild. Also please note none of these listings include the cost of going with stainless braided brake lines, or upgrading to Motul RBF or equivelant quality brake fluid. It's assumed if you're doing any of these upgrades you're going to go with those upgrades at the same time as well, so it's not worth including or differentiating.
ALSO: Be aware that all of these upgrades with larger rotors require running larger wheels up front than the OEM base model 17" wheels up front. Whether you go square (18" front and rear) or another upgrade such as Z06 wheels front and back, you will need to upgrade your wheels. Given the OEM front tires being only 245 aren't terribly up to the task, I personally got another seat of rear "wagon wheel" Oem base model wheels for $200 a pair, powder coated them for $100, and ran 275 tires on all corners. Yes, this can cause issues with traction control kicking in early. Given how day 1 at the track I took the traction control off as it was very limiting... I can't say I'll miss it.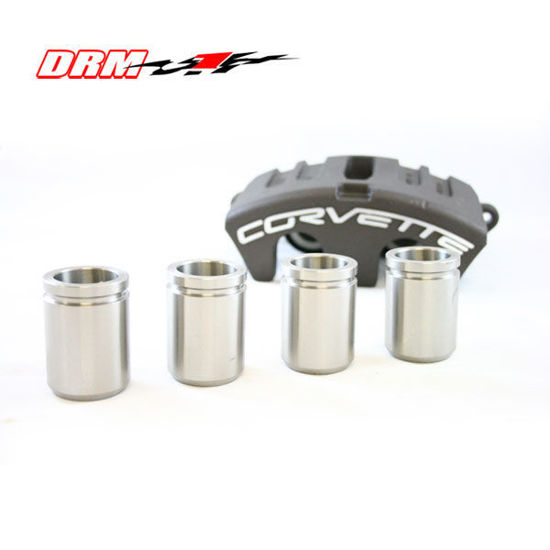 Just Upgrade The Front to Stainless Caliper Pistons
Estimated cost: $155
This appears to be the cheapest upgrade out there. Just add in the stainless caliper pistons to reduce heat transfer and you're in business! Lots of people track just the base model C5 stuff and say it's fine.
PROS:
Cheapest option at appx $150
Very Easy Install
CONS:
Only helps with cooling. No braking power improvements.
Parts list: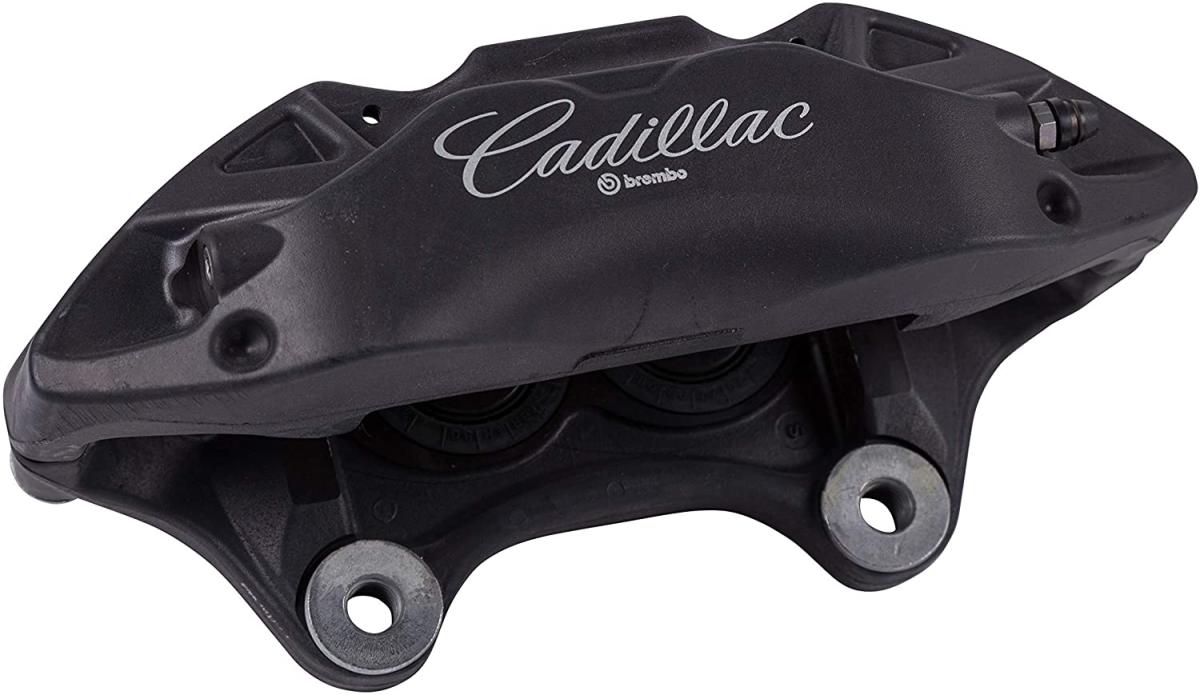 Upgrade The Front to C6 Z06 14" Rotors + Cadillac ATS-V Premium Calipers
Estimated cost: $503 - $606
Per another gentlemans research, you can install the brake calipers from the Cadillac ATS-V, which are 4 piston brembos calipers. They will bolt right onto your OEM caliper brackets (supposedly) and you can then run them with 14" 355mm C6Z06 brake rotors. It's just shy of perfectly plug and play, but pretty damn close overall.
You can go slightly cheaper by just running non-name brand semi-metallic brake pads. For street use, this is probably all you need. I included the track day brake pad option. I was unable to find a Hawk brakepad option. I also listed painting and decaling the caliper as optional. I can't imagine you want a cadillac logo on your corvette though. I personally went with black paint and white brembo logos. Others do Corvette logos on their caliper, but I think Brembo will be cooler, and it doesn't have that "Corvette tax" additional price in there.
PROS:
Even better braking up front with bigger rotors + 4 piston calipers
Improved cooling up front from larger rotor.
Still a very affordable option.
Reasonable Install.
CONS:
Requires upgrading to larger wheels in the front, 18" at least.
Possibly unbalanced braking as the rear is not upgraded to match

A lot of folks just upgrade front and not rear based on what I saw at the track days I've done.

Possibly inferior cooling to OEM calipers with stainless pistons.
Parts list: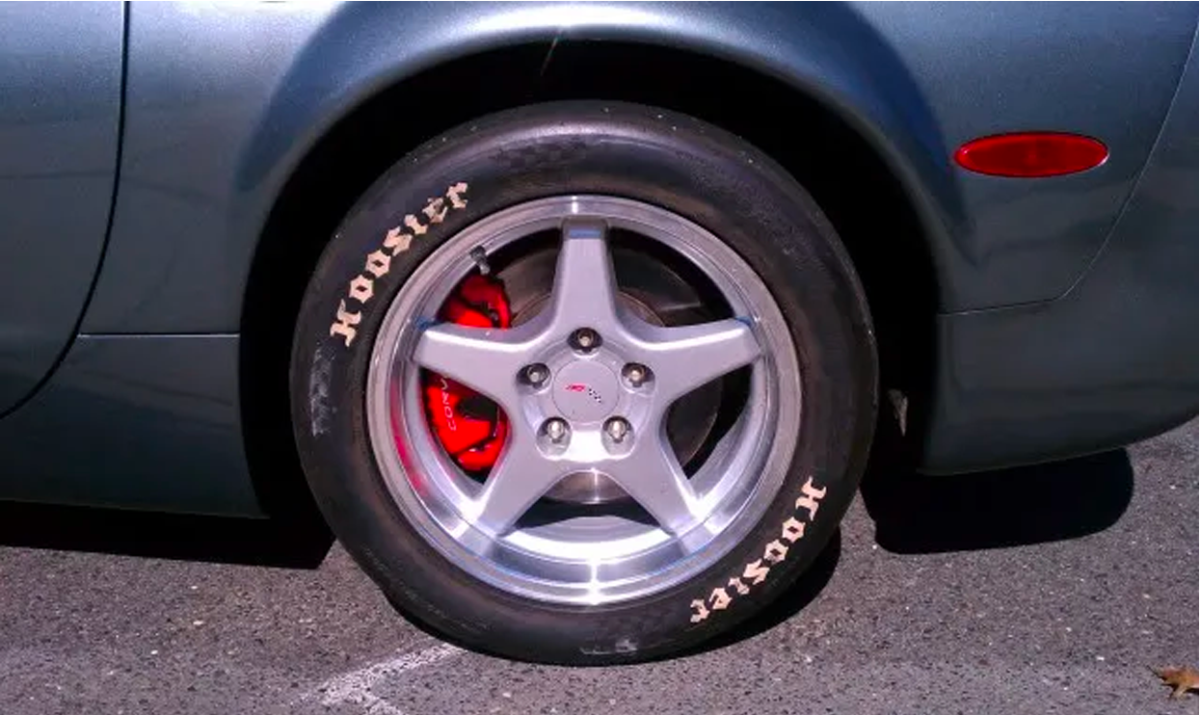 Upgrade The Front to Cadillac Brembos + Swap front calipers to rear
Estimated cost: TBD
So this one I'm still researching. I'm crawling through 10 year old forum posts, such as this one. It would appear you can take the C5 base model front brake brackets, swap them L to R and mount them on the rears. Then you utilize a C6Z51 rear brake rotor which is 13" (330mm) and will retain your parking brake functionality as well. Some say machining is required of the C5 brackets. Others say just use the C6 Z51 rear brackets and you won't have issues. I'm still navigating all of this.
You can go even cheaper and just swap the C5 front brake calipers and brackets (12.6" / 325mm) to the rear... but then you supposedly lose the parking brake. Given you don't use the parking brake on the track (or coming off of it either) it doesn't seem to matter.
This should in theory be a nice cheap upgrade to combine with the aforementioned upgrades.  Larger brakes and more caliper bite all around. Forum posts on the topic report people hitting the drag strip and heavy braking from 130mph down and not having ABS issues or any other issues. More info to come though.
Upgrade to C6 Z06 Calipers Front and Rear
Estimated cost: $2299
This particular combination uses a package of parts. The cost isn't cheap, but the upgrade effectiveness is there and significant. You ditch your caliper brackets in favor of a the C5 Z06 solid calipers with 6 piston brakes up front, 4 piston brakes in the rear. This is a balanced upgrade that matches the factory components the C5 Z06 came with.
The rotor sizes are also significant at 355mm front (14") and 340mm rear (13.4"). While the additional diameter increase over the C6 Z51 is minor at 3%, the overall upgrade is 11% larger, while the Z51 is 6.3%, so this is almost double the percentage increase.
PROS:
Braking improvement that is better than anything else mentioned thus far
Significantly larger calipers than all previous packages.
All in one kit including brake lines. One purchase, install, and done!
CONS:
Requires upgrading to larger wheels in the front, 18" at least.
Not cheap.
Other kits aren't much more and yield yet another level of performance improvement.
Out of stock nearly everywhere, and currently not shipping for 3-4 months
Calipers are "discontinued" and supposedly very difficult to find for this reason.
Parts List: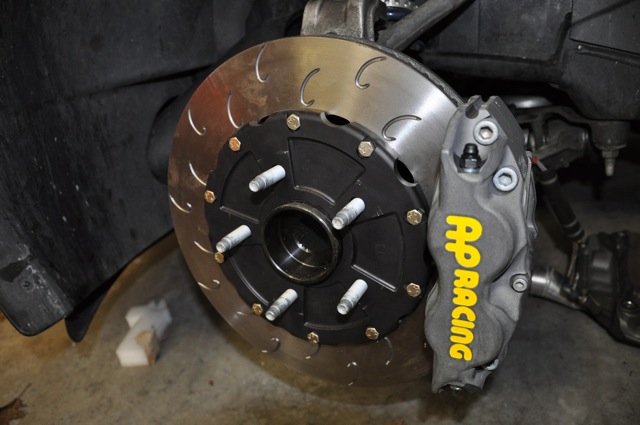 Upgrade to AP Brakes
Estimated cost: $6000-9500
This is the mack daddy of brake upgrade options. No expense spared, the best out there. All the best Corvettes that were setting insanely fast track times out there run these. I was turning alright times at Laguna seca and the fella with these on his car beat me by the better part of 20 seconds. I'm betting if you've got a C5 corvette that you track these are likely worth almost as much as your corvette. They make a bit more sense on the C6 corvettes as they are a bit more competitive time and handling wise... but if there's no kill like overkill for your C5 then you run these!
Parts List
Honorable Mentions
The following options do exist, but I chose not to include them as I felt the aforementioned choices were the best ones to go with for improved braking and cooling for the price. The following
Wilwood Disc Brake Kits - Appx $2000 - OEM base model rotor sizes with imprved brakiing capabilities. Seems like a recipe for overheating brakes on the track as the small base model rotor size is retained, but for street use you'll get vastly improved braking and you may not need sustained back to back extreme decelerations from 120+ down to cornering speeds.
Stoptech big brake kit - Appx $2899 (just front) to $5798 - This will upgrade you to 14" brakes in the front and in the back if you want to go that sizable. These are up there with AP brakes in pricing, but given I see very little of these at the track and AP is mentioned the most, they go in the honorable mention category.