C5 Corvette Useful Links and Documentation
Submitted by
shredjesse
on Wed, 08/17/2022 - 09:37
This page will be used to capture links and reference documents/images so as I can find it later and/or other folks may benefit from it.
Useful Links
C5 Corvette Electrical Ground Location Documentation
Recently I've been having some fun electrical gremlins (video to come) in my Corvette, and apparently these corvettes are known for having grounding issues. I searched for information on ground locations, and found this very information forum post. Unfortunatley these days forums seem to be falling to the wayside in favor of social media groups, which are not indexable making searching for information much harder. So, in an effort to preserve the useful information from that post I am recreating that content here for archival purposes.
Since Corvettes seem to have issues with grounds, I have compiled a list of the Ground locations and the circuits attached with each ground for reference purposes. I thought others might benefit from this list.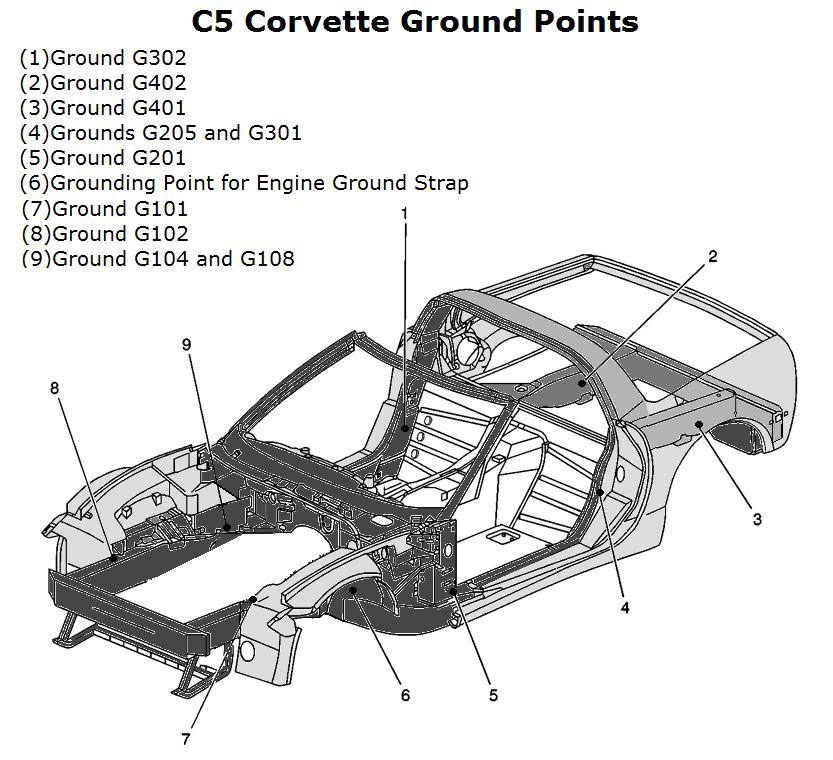 Ground locations
From 2003 Corvette Shop Manual

Engine ground strap top left frame behind left front wheel well

G101 left front frame (with SP101)
G102 right front frame (with SP100)
G103 left front of engine
G104 frame next to battery (with G108 & SP102)
G105 left lower engine block, engine ground strap & wire
G106 Battery negative pole
G107 Left rear head
G108 frame next to battery (with G104)
G201 bottom of A-pillar, left (with SP201 & SP203)
G202 bottom of A-pillar, rt, bolted at the bottom (with SP202)
G205 inside door pillar driver seat (with G301)
G301 inside door pillar passenger seat
G302 inside door pillar driver seat (with G205)
G401 left rear outer frame
G402 right rear inner frame
SP201 bottom of A-pillar, left (bolted with G201)
SP202 bottom if A-pillar, rt (bolted to G202)
SP203 bottom of A-pillar, left (taped to wire bundle, with G201 coming out of it)

G101: windshield washer fluid pump
Windshield washer fluid level switch
Brake fluid switch
Headlamp door assembly, left
G102: cooling fan, right
Cooling fan 3 relay 44
Horn assembly
Underhood lamp
Headlamp door assembly, right
Headlamp door control module
A/c compressor clutch
A/c compressor clutch diode
Secondary air injection pump
G103: Electronic brake control module (ebcm)
G104: battery negative pole
Splice pack SP102:
Marker lamp, right front
Marker lamp, left front
Park/turn signal lamp, right front
Park/turn signal lamp, left front
Turn signal lamp, right front
Turn signal lamp, left front
Splice pack SP208:
Body control module (bcm)
Instrument panel cluster (ipc)
Data link connector (dlc)
Inflatable restraint & diagnosis module
Inflatable restraint ip module disable switch
Park/neutral switch
Remote control door lock receiver
G105: fuel pump relay 35
Engine oil level switch
Heater O2 sensor, bank 1 sensor 1
Heater O2 sensor, bank 1 sensor 2
Heater O2 sensor, bank 2, sensor 1
Heater O2 sensor, bank 2, sensor 2
G106: battery negative pole
Ignition relay 42
Powertrain control modules (pcm, 4 wires)
Throttle actuator control module (tac)
Mass airflow sensor (maf)
G107: ignition control modules 1-3-5-7
Ignition control modules 2-4-6-8
G108: Electronic brake control module (ebcm)
G201: Splice pack SP201:
Data link connector (dlc)
Air temperature actuator
Instrument panel cluster (ipc)
Traction/suspension control switch
Driver door module (ddm)
Door latch, driver
Auxiliary power outlet
Windshield wiper motor
Steering column lock
Footwell courtesy lamp, left
Instrument panel cluster (ipc)
Hazard switch
Telescopic actuator switch
Splice pack SP203:
Remote CD changer
Fuse block I/P
Speaker, right door
Speaker, left door
Radio
G202: Splice pack SP202:
Passenger door module (pdm)
Door latch, passenger side
Body control module (bcm)
HVAC control module
IP compartment lamp
Footwell courtesy lamp, right
Vanity mirror lamp, left
Vanity mirror lamp, right
Inside rearview mirror
Bose relay 45
Ignition switch
Blower motor relay c60
Blower motor control processor
Hood ajar switch
Cigar lighter
A/t shift lock control solenoid
G205: seat belt switch, driver
Seat control module (scm), driver
Seat pump, driver
Seat belt switch, driver
Seat relay center, driver
G301: defogger grid
G302: Splice pack SP302:
Seat relay center, passenger
Seat pump, passenger
Rear compartment courtesy lamp, right
Rear compartment courtesy lamp, left
Rear compartment lid latch
Rear compartment lid latch, right
Rear compartment lid latch, left
Folding top lid latch
Folding top release switch
Fuel door lock actuator
Radio power antenna
G401: Splice pack SP400:
Fuel pump & sender assembly, left
Fuel level sender, right
Tail, stop, turn signal, rear left
Tail, stop, turn signal, rear right
Center high mounted stop lamp
Backup lamp, right
Backup lamp, left
License lamp, right rear
License lamp, left rear
Marker lamp, left rear
Marker lamp, right rear
G402 electronic suspension control module (esc)
C5 Corvette PCM & TAC Pinouts