Track Day 5 - Streets of Willow Springs CW
Submitted by
shredjesse
on Mon, 09/19/2022 - 18:38
Keeping with my trend of a track day every other week, I hit up a pretty affordable Streets of Willow Springs Clockwise day. I had new components to try out, with some fresh QA1 coilovers, Progress swaybars, and the Electrosport Wheel Well vents. I was able to meet up with a fellow C5 owner, whose C5 unfortunately was down and so they were there in a Focus ST. We also met a fellow with a pretty rowdy 2019 Ford Mustang, and I can't recall the model but given he was rolling on 315 front 325 rear tires, his car was definitely built to shred!
I began the track day in the slow intermediate group, which quickly proved to be a mistake. That particular group was full of people with no clue about lines, zero clue about how their car handled, and in general were quite slow. Being in with that mixture of folk did make for some really fun passing opportunities and was great on the ego, but myself and my two friends were unable to set full pace laps and it surely wasn't fun for the folks we were blasting at likely in excess 20 seconds a lap faster.
We all moved up to fast intermediate, which was a much better fit. Everyone in this run group was pretty equally balanced, and I was only able to pass a few folks, while I had to let a few select folks by as well. In general I'd wager that run group was all within 2-3 seconds of each others lap time, so having a 10 second staggered start time ensured most of us never even saw each other out there. I was also able to beat my personal best laps twice in a row, putting down a best of 1:29.356. I was happy to break the 1:30 mark, and even more happy I could pretty consistently dip below 1:30.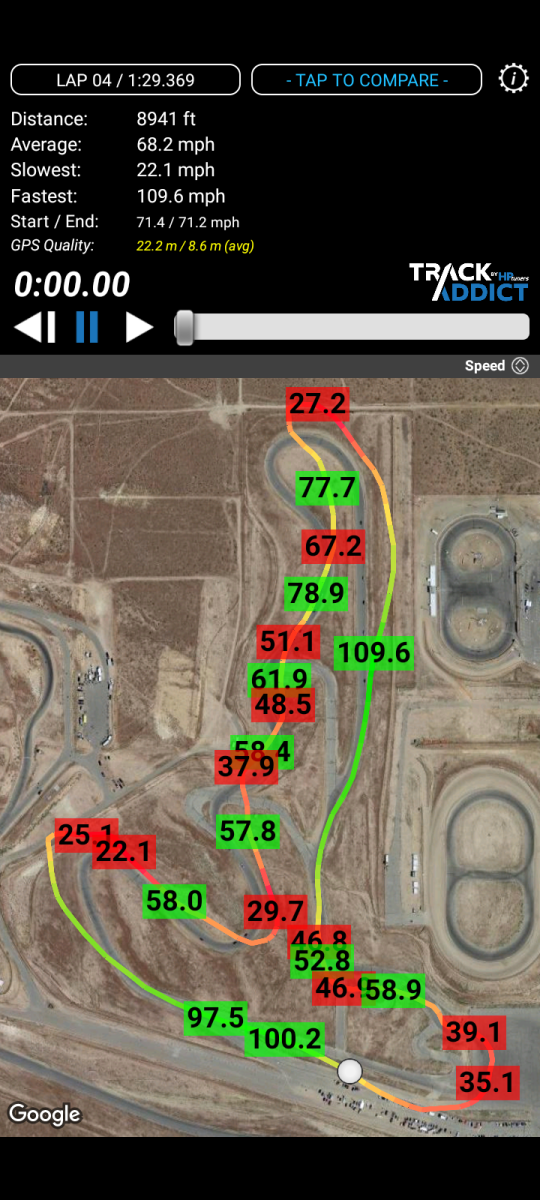 QA1 and Sway Bar Initial Track impressions
I could tell immediately that this setup was significantly stiffer than the OEM setup, with even my C5 buddy commenting how much stiffer it was, and that was only on the 3 compression click setting. I was still however getting a bit more body roll than I wanted, and so I switched to 6 compression front and back, this helped with body roll, but didn't seem to help with mid turn push. I did pick up about a 1/4 second of time though with that setting, so perhaps there was some merit to it. One factor that played into affect was that with the reduced track temperatures and improved grip I was able to push myself harder through sections that precariously unsettled the Corvette before, such as turn 10.
Overall, I think I left some time on the table and I could get noticably more aggressive both with my shifting and braking. I can go deeper into turns and I can come out of turns at a higher RPM. I just gotta be more
To wrap the day up, there was a final mixed run group with all of the intermediate groups. This meant there was a lot of people out there of mixed skills and not much opportunity to try and lay down a fast lap time. However, there was ample passing opportunities, with me making 30 passes in 30 minutes. There were a few dangerous manuevers folks made, and a few pass calls that pushed my comfort level, but overall everything worked out and was a blast.