2016 Summer Interior Work and Rod Run Trophy
Submitted by
shredjesse
on Mon, 09/12/2016 - 11:05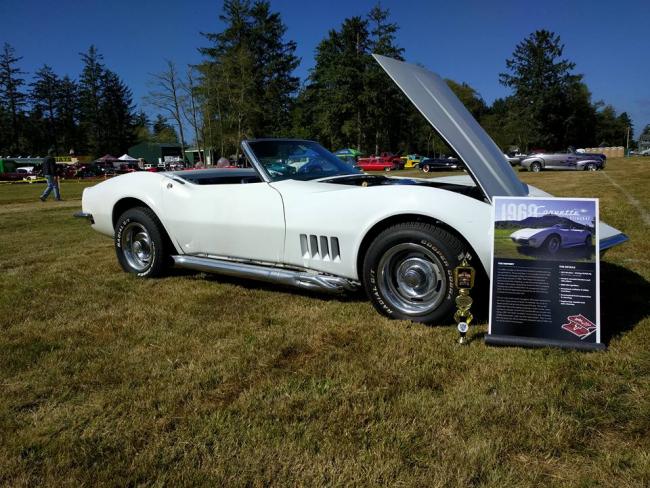 After the prior years Rod Run to the End of the World in Ocean Park Washington, it became clear the car was a long way from done. Seeing all of the other cars though really help put everything into perspective and create the current long term plan for the car. Desiring to bring the car to the Rod Run again this year and show it off, a few blatant sticking points with the interior needed attention.
The flagrant issues with the interior were as follows:
Missing gauge. The clock had been replaced with a fuel pressure gauge, but was done running fuel directly from the carb into the cab. This is obviously not safe. This was all disabled and then removed.
Missing stereo. The original bezel had been cut haphazardly by my father to install a "modern" 1 din stereo. This was removed by me in an effort to troubleshoot electrical draw issues on the Corvette (wound up being wiper motor), but was a visual eye sore none-the-less.
Torn upper shifter boot. The rubber for the upper shifter boot was beyond worn, and had become stiff and inflexible in many areas, and ripped in others. This needed to go.
Non functioning wipers, missing upper segment of center gauge bezel.
The Corvette at this time has a lot of issues and is far from entirely sorted. The above issues though were beyond just "not gotten around to / just old car issues" and were more "actively making the car worse" in appearance.
To remedy the above, I did the following:
Worked with superior performance to get a new wipter motor in and working
With the new wiper motor switch in place, ran a ground wire direct from the switch to a metal point on the firewall, grounding the switch.
Replaced the upper shifter boot with a leather shifter boot.
Bought an aftermarket gauge bezel that supporst a 1 din stereo
Replaced the now missing gauge with an OEM style clock. It works and keeps time amazingly enough! It's a bettery drain though, will require a battery tender when sitting for long periods.
Had Audio Source in Vancouver WA install a new stereo and speakers, it is switched off of ignition to ensure it doesn't draw battery.
All said and done, this tidied up all of the minor details remaining with the car. The remaining piece of work for the car and the car show, besides detailing it, was getting a posterboard to ensure the story of the Corvette is conveyed, along with explaining that the Corvette is still a work in progress. Below was the posterboard a co-worker helped design for the show.. The two zip files containing the editable files and high res print files can be found HERE and HERE.