Suspension Overhaul / Potential Maximization
Submitted by
shredjesse
on Thu, 09/27/2018 - 12:04
Shortly after initially building this bike, I found myself falling in love with mountain biking. I also found myself hating climbing uphill, and loving shredding downhill. I was contemplating building out another bike (as I do love bike builds) however... it seemed wasteful to turn my bike on this build so soon. Plus, the real reason I was hating uphills is I'm out of shape, which will hopefully be changing. I hopped on my bike again and shredded it, only to remembered all the reasons I love it. That refreshing ride in turn has motivated me to instead of investing in a different bike, build this out with excellent suspension components and upgrades. Besides that, the one area on this bike that isn't brand new is the fork, shock and frame. Since I can't do anything to freshen up the frame, I'll be building out the suspension next and then essentially have a mostly new bike! All for less than the $5000 or so dollars this configuration would cost from Trek.
Fox Float DPX2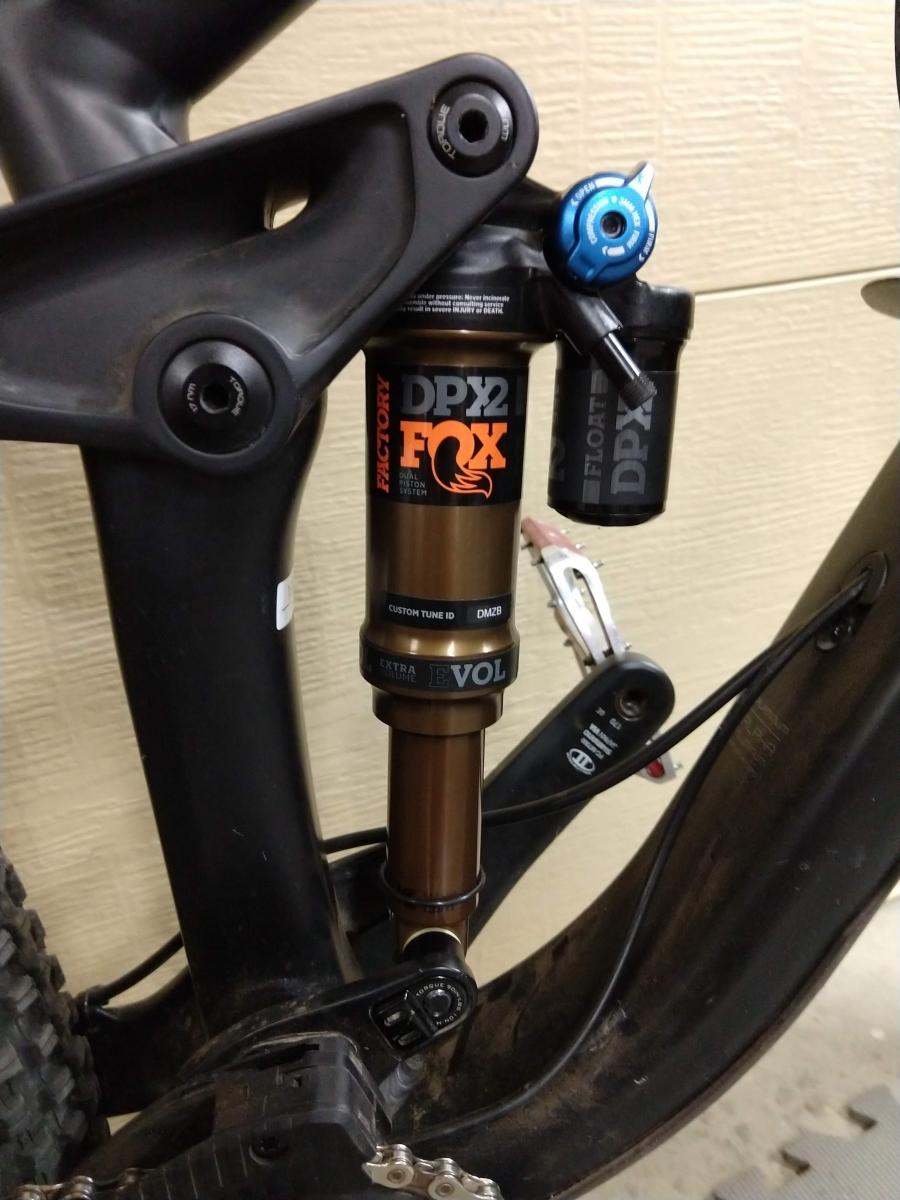 I'll spare you copy and pasting the manufacters schpeal and summarize. All the radness of Fox's rother shocks combined and refined to make their new high end trail shock. It's now apparently available in the exact and somewhat odd dimension that the Trek Fuel EX uses (210 x 52.5), and even tuned for it supposedly. There's a forum post going on about it and lots of people report amazing sucess and happiness with.
The price was $555 at Worldwide Cyclery. I decided to order this shock as it in theory should give me the best shock available for this bike. It'll be the best shock available for my 130mm of travel versus me getting a whole new bike with a mid level 150mm travel shock. Seems to be the way to go!
I received the shock, and so far so good. I will say that the shock does not advetise that it comes with a 0.6 volume spacer included. You'd still do well to get volume spacers and customize volume spacing on your bike, but for those already shelling out a bunch... this comes relatiely straight forward and ready to go.
Install was easy, although I think the spacers and all that were a mm off or so, leavig a strange bit of gap. No matter though, it all fit into place fine and worked. Installing all of this without a bench vise to press the spacers and what not into the shock would be difficult so... get a bench vise or go by a buddies who has one.
Long term testing will tell, but at the very least, I am not without excuses on suspension on my Trek!
Fork Overhaul and Upgrade with Debonair and MRP ramp control.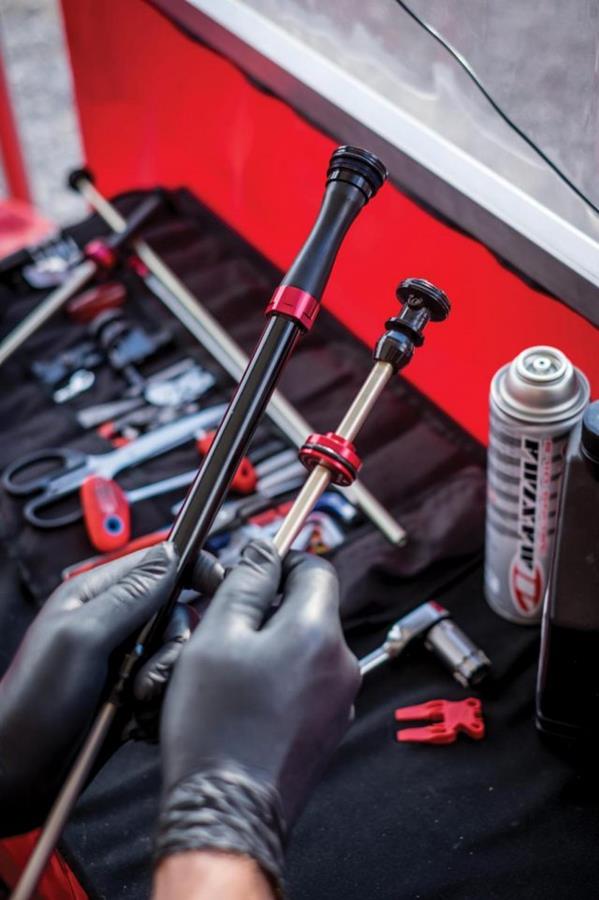 I dig the rockshox pike, especially having gone 140mm up from OEM 130mm. That said, i think mine may be a bit tired, and there's a few upgrades out there that supposedly help it behave even better.
First up, the debonair air spring upgrade. $44 at Worldwide Cyclery. Simple upgrade that should improve the fork's handling and small bump compliance, etc etc.
I intend to combine that upgrade with the 200 hours / 1 year service. My fork is tired, might as well ensure it's 100% good to go. $58 at Worldwide Cyclery. Should replace all the o-rings, oil, etc etc. speaking of which, oil is not included in that service kit.
Next up, I will be adding the MRP ramp control to the fork. This will let me on the fly adjust the equivelant of volume spacers in the bike. I don't think I'll actually adjust this much to ever, but being able to fiddle with it in small increments instead of just 3 sizes should help me fine tune the feel I am going for. $131 at Worldwide Cyclery.
Lastly... Stealth Rockshox stickers for $18 at Worldwide Cyclery. Essential or even beneficial? Nah. I will be able to make the bike match entirely colorwise though, along with look better as the old scratched up stickers will go away. If a situation necessitates sale it'll be easier to sell looking nice. Plus hey, it's good on the old ego to have a rad looking bike.
Grand total: $840
Not exactly cheap, and 1/3 of the way to a newer bike build... but for less out of pocket money I can have a nicer bike, keep more total money in my bank account, and have really high end components to shred with.
On trail review:
Fox DPX2: On trail thus far I couldn't honestly tell a whole lot of a difference in the shock. It never left me wanting for more, but I will say at my weight (230lbs) I was 5 clicks out for rebound, and felt the rear kicked a bit more than the front at times. This could possibly relate to the front plowing though versus the rear kicking, etc etc. More time will tell, and a balanced suspension setup after a lot of futzing around.
MRP Ramp Control: The difference with this wasn't expected to be huge either, but I did find myself adjusting this once on trail. I was not using all of my travel, so I gave it an adjustment to be more progressive. Welp, I didn't like that as the front felt like it was too soft and just pushed through everything, so I tried a few compression click changes, and overall just wasn't feeling it. So I went back to 5 clicks from fully open on compression, and 7 turns I believe from all the way open on volume spacing.