Initial Build Out
Submitted by
shredjesse
on Thu, 09/27/2018 - 10:02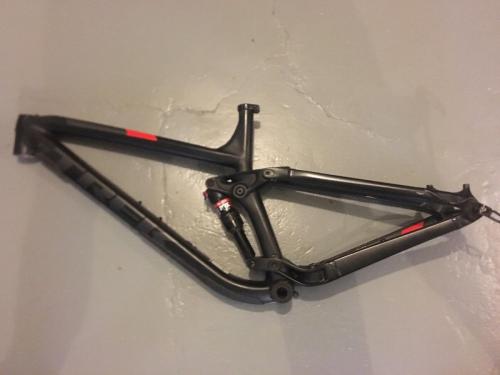 The build began simple enough: The frame.
2017 Trek Fuel EX 8 frame. Included was a bottom bracket, headset and... just about nothing else.
From there, the build out. Just what was I looking for in a bike?
Tires. This frame was meant to have 29" wheels, but my previous ultra fancy bike had 27.5" wheels that I put 2.6" tires on. Personally... I liked the fat tires. On a boost spaced frame (wider axle standard) you can often run quite wide tires, and in this case with a bit of research I was able to determine people had succesfully run WTB 27.5x3.0 tires on thier frame.
Suspension. My previous bike had 160/150 of travel. This bike was meant to have 130/130 from the factory, so a bit of a step down but better XC and mixed trail habits. After some research, I was able to determine many people run this frame 140/130 and really dig it. It slackens the head angle ever so slightly while adding some travel making it a pretty compotent bike for mixed trail usage... where I currently spend 99% of my time.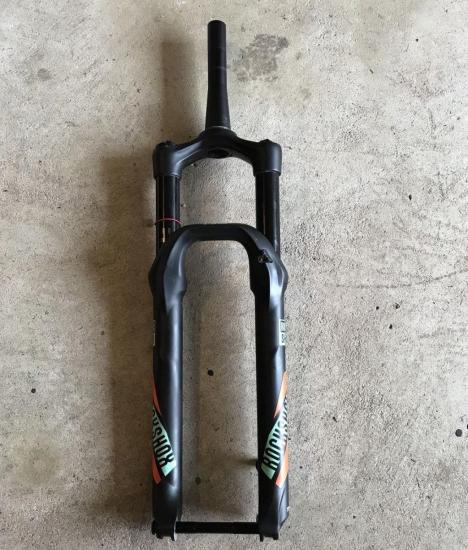 The previous bike I had owned had a Rockshox Pike. I really came to dig that fork. I was able to find the exact same fork used on Ebay for $400. Sure, it's a hair chewed up and will likely need service soon, but the savings fair outweight the rebuild costs, and I can also perform some upgrades to this fork at a later time to further improve the bike.
Wheels. Gotta have them. I went with a wheel builder who got me setup with some WTB ASYM i35 wheels, which should let me run the tire width I want without issue. Hubs, meh nothing special, I forget exactly what they are but they're more than up to the task at hand. I'm not sending it huge to flat anyways.
Tires. WTB Trailboss 27.5x3.0 tires. One of the few places I had a hookup throughout this process was with WTB, and so I went with their tires. Wide, chunky, good for a variety of terrain... plus others had posted about their success with this tire so I went with it as well.
Brakes. I prefer shimano. Easier to bleed and service has been my experience. Plus an abundance of parts availability at local bike shops. I wanted M7000, but they were backordered. M6000s are nearly identical minus the lever adjustability, which I've lived without. Perfectly happy. Would like to do M8000s in the future, but ya know... budget etc etc.
Drivetrain. So when it comes to drivetrain, there's a lot of options and varying price. There's 12 speed setups that run on shimano hubs, there's 12 speed setups with Sram XD drivers, and then there's 11 speed setups and even 10 speed. My fancy high end bike had SRAM components which I really dug. That said, they were 12 speed with an insane 50 tooth larger gear and by the time I got on that gear I was guaranteed to be walking the hill.
So in the name of weight savings, budget savings, and in general ease of install, I went with SRAM GX components in an 11-46 tooth casette. Yeah I don't have the extra fast 10 tooth gear, but I rarely find myself pedaling in top gear beyond it's capabilities for more speed anyways. I also lack the 50 tooth tank crawl gear, but again I'll live without as I generally hop off on a hill requiring that.
Dropper Post. I purchased a used Rockshox Reverb off of ebay with a DEHY cable conversion on it. It worked pretty good at first and did the trick, but now I think it's too damn sticky. I purchased a KS LEV cable actuated dropper post I think I'll be trying to install and use next We'll see how that goes. I may in the future be treating myself to something high end and brand new. I do get discounts on CrankBrothers so their components are a possibility.
In the completed bike picture I'd stolen the external dropper post off of my 2014 Fuel EX 7. It's external so the cabling had to be zip tied onto the entire frame which was less than ideal. It does work great, but it has been moved over to my girlfriend/small dude-friend bike.
Bike setup pictures: