Initial Review
Submitted by
shredjesse
on Fri, 05/16/2014 - 21:08
So in the interest of avoiding as much buyers bias as possible, I waited until I had 3 days in the kayak on the water to review it. It's pretty rad, but it has some pros and it has some cons. I'll cover those here.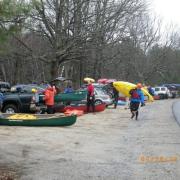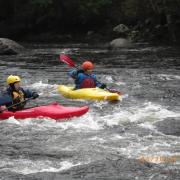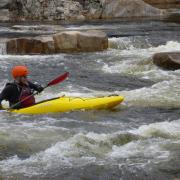 My overall thoughts: It's a fun kayak, it's treated me decently, but knowing what I know now, I wouldn't probably have STARTED with this kayak. I'm quickly discovering that I'll be doing 10x single day trips for every 1 overnight trip. Therefore, owning a kayak that's made a few tradeoffs for it's overnighting ability... just doesn't make sense. I emphasize the FEW tradeoffs though, it has a lot positive going for you, and some of the choices made to give it storage provided bonuses.

The kayak has some notable plusses:
Fast! Paddle twice, and haul butt. I frequently had to eddy out and wait for others in the groups I've paddle with. Want to catch a wave? EASY!
Stable! I got through a bunch without too much issue.
Stays really high in the water due to it's giant 100+- gallon volume
Storage space, it holds a ton!
The kayak has some just okay things to consider:
It's 10'+ in length. It spins well enough and I haven't exactly missed an eddy I wanted or anything... but spinning it around to catch a wave doesn't happen as quick as you may need to. Fortunately, when you get it around it hauls!
It's 10'+, and thus heavy compare to the 40% shorter boats a lot of people my size are in (Jackson Superhero, Jackson Super Fun, Bliss Stick SCUD). On many of the day trips I took, I wanted to run difficult rapids multiple times, and hiking up them was a chore. Three trips was surely not happening.
It's not all that playful. It's obviously not a play boat though. If you're on a shorter trip trying to make four hours of fun out of a 4 mile river run, this isn't it. This boat is built to punch through things and just keep rolling as it's meant for covering lots of whitewater in a day.
Backband rides lower on my back than I would like. Discomfort after a long day. Goes away with activity, but given the way this boat hauls you're frequently hanging out in an eddy waiting for others.
Things I need more time with to figure out:
Once it's going down the rapids, getting it off the direction it's going has proven to be a chore. I was frequently described a line, and then couldn't get there at all. Multiple heavy power strokes don't take it very far off the line at all. I need to try some boats with more definitive edges and shorter lengths to compare, along with a different hull.
Outfitting. I'm not as comfortable as I would like to be in there. I need to try some more adjusting to get a better fit.
I haven't done overnight trips yet. NH just broke into the 70's this past week. It's not quite camping season. A few more weeks and I'll have time for some overnight adventures!
Am I happy to own the kayak? Yep! I'm fortunate enough to not really be stressed about money, so I'm okay with getting another kayak, already did infact. This one will be rad for the fun multi-day adventures I want to take. It'll do great in funky faster water, and I'm happy to have it.
Would I recommend this Kayak? If it's one kayak in a collection, or you REALLY are going to be doing lots of trips all the time, it's awesome rock this kayak! If you can only afford one kayak... this will do the trick if you really will be doing camping a decent amount. If you're at all aggressive (you snowboard, skateboard, ride motorcycles, etc) your day trips will be a lot like trying to skate a halfpipe with a longboard.

Here's a video of a short Class II trip down the pemi river.