RMR Rocky Mountain Rafts Storm 10.5 Review
Submitted by
shredjesse
on Wed, 07/08/2015 - 11:15
I really love getting out for adventures. I love being outdoors, I love adrenaline, and I love getting away from it all to go camping. White water provides much of this for me, but taking a good amount of camping gear with you in kayaks weighs them down and really eats away at their primary advantage: being nimble. Also, as mentioned over in my review of the Tributary Tomcat Solo IK, I wanted something a bit more relaxing to take down the river. Sometimes, you just want to get out, have a beer, and relax a bit more than you can in a hardshell kayak.
The choice to pick up the Rocky Mountain raft stemmed from all of those reasons, along with a trip down the Deschuttes a few years back. A group of friends organizes a yearly rafting adventure on the Deschuttes river. I went one year, before I was into white water. As a random person with my girlfriend at the time just joining up, we got stuck in a boat with random people... and one of those people wound up being one of the most raging four letter words I'd ever encountered. Then there were people blaring crappy music (we're trying to get away from the city, no bring the club to the water).... and I was just not interested in dealing with them all... but had to because we all had to share boats.
Enter the RMR Storm 10.5 raft. (Check out the raft on their site)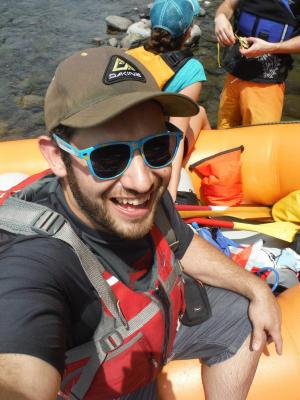 A simple enough boat. It's small enough to handle many of the lower water runs I wind up taking during the summer months, it will do two people and gear no problem preventing me from having to deal with people that suck, and in general fits the bill for what I want. It was recommended to me by a good friend, and with his reccomendation I picked it up to go paddling!
Awesome Pro's of this boat:
Amazingly agile! Manuevers easily and is often quite quick!
Deflates/inflates quickly.
When wrapped up easily fits inside the back of most any hatchback with tons of space to spare. My Subaru Impreza and the GF's Prius transport it no problem with room to spare!
Comes with bag to wrap it up and transport. Helps a lot!
Valves are top notch!
Well constructed! Seems quite beefy!
Holds two people and a fair bit of gear no problem!
Great boat to put nervous beginners on. Dive into the middle if you get really scared!
Observed Con's of this boat:
Rafts are just slow. There's nothing you can do about that.
Tippier compared to larger rafts, but more than stable enough. Adding thwart grab handles seems to help. I went with these thwart bag's that also have thwart grab handles from Salamander gear (whose products I've come to like) on them. The bags are useful for stashing snacks, cameras, etc etc, and also have grab handles that work great!
Getting in and out of those boat without the grab handles is a chore. If two people get ejected and you don't have grab handles on the thwarts... good luck!
I have no idea how I'd go about flipping this puppy over if it flipped and two people got ejected.
Overall impression:
A most excellent R2 boat that I'm glad to own. It sees less usage than our inflatable kayaks, but it let's me take some of my very anxiously adventerous friends down the river. Usually after half the run they get in an IK and get over their fears of white water pretty quick, but it gets people on the water and it's damn good at it! For the price, there is no better comparable boat out there. We paid $1699, and got 10% off of all the gear we purchased afterwards. I've heard of people getting better deals on these, but I think the price for damn good times on this boat just can't be beat! Plus compared to renting rafts... this thing will pay for itself in 8-12 trips. We're already a third of the way there!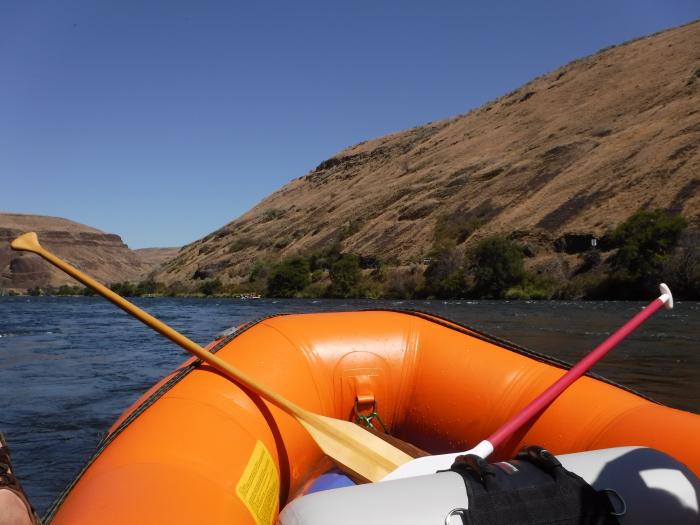 Further impressions after taking it down the Deschuttes River:
Having mostly rafted alongside other IK's, and ONCE with some other friends in a 12' raft, I didn't have a lot of comparison points for this raft to others. In mid August of 2015, I took a friend down the Deschuttes river in this raft. We did the usual leg through Maupin, which is practically the bumper cars of white water rafting with how busy the river gets. While a bit annoying at times, it provided for an excellent comparison of this raft to others, especially when we busted out the squirt guns and started taking on random other boats!
Overall, the Storm prove to be quite agile by comparison to most other boats, along with quite fast. Granted, most other boats weren't paddling all that hard (or at all for that matter) but we frequently found ourselves altering our lines to pass people, or catching eddies to increase the gap between us and other slower raft groups.
The raft also caught the attention of a lot of other guides on the rivers, and people in general. We were commended a few times by people for being brave enough to paddle an R2 setup down the Deschuttes, which honestly seems pretty silly to me as this boat is just as good as any other raft out there it would seem!