What to expect: First time getting on a modern downhill bike.
Submitted by
shredjesse
on Tue, 09/10/2019 - 11:36
Recently, Timberline opened their new mountain bike park. I went out, got myself a pass, and rode it on my Trek Fuel EX. Truth be told, for the current state of the park the 140mm/130mm of travel on my Fuel EX is probably all the bike you need for this. The green trail is as sterile as it gets, the blue trail (now, trails) are pretty straight forward, and the black diamond starts to get into interesting challenges... but still no must make moves or anything exciting. Infact, there's no real jumps. There's a few side hits, a few rollers you can pop over... but no tabletops, gaps, step ups... overs... hell there's no lips. Now that may read an awful lot like I'm talking shit, but I'm more trying to frame the basis for my comparison. There is plenty of fun features that have my looking to get back to the trails to shred.
A few weeks later, I was on a cross country road trip to the east coast. As always, I cruise facebook marketplace and craigslist for good deals, and saw a lot of used bikes were substantially cheaper on the East Coast than the west coast. That's a whole separate discussion on the merits of how much "nicer" the west coast fancies itself... but the reality is I saw some good bike deals, and decided to pounce on a downhill bike.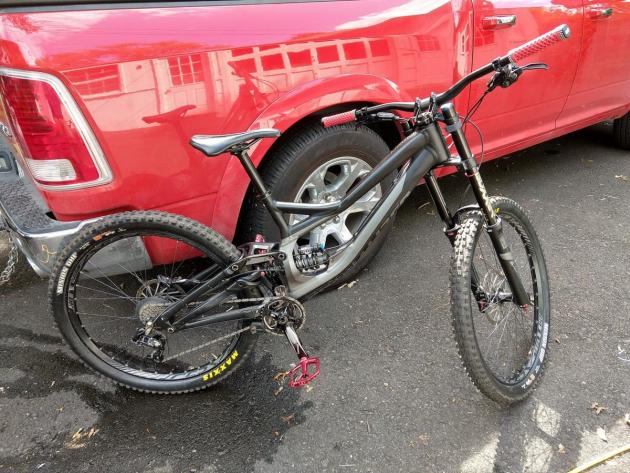 The bike: a 2015 Specialized Demo 8.
Reasons I thought it was a good purchase: Modern geometry, with a decent length of reach. 27.5 wheels are modern and puts it into modern tires.
Things that aren't perfect: Axle/hub sizing aren't fully modern. That said, for how mediocore I'll be shredding this... it will survive.
Initial day of back to back for writing comparison
More information to come when I actually get the bikes to the mountain for a back to back comparison. The main plan is to shred on my trail bike, enjoy everything, find a few areas where the Trail bike is at it's max capabilities, and then compare it to the downhill bike. I intend to write about any general observations about going from a mid travel to a long travel bike, along with any other observations I can muster.